How do kindergartens become the ideal dreamland for children?
Views: 2648 Author: Lin Congcong Publish Time: 2018-03-21 Origin: Site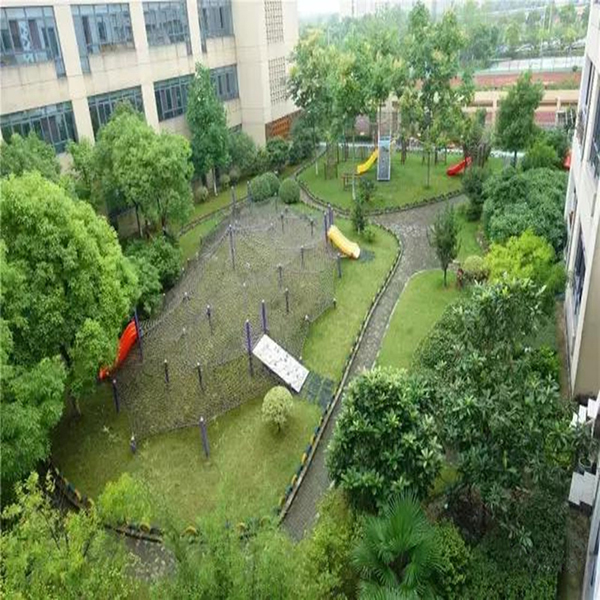 There is a kindergarten in Slovenia like this:
Some netizens commented on it as "it is said that this kindergarten baby, playing every day does not want to go home."
Nowadays, ShanghaiThe Zizhu Kindergarten affiliated to East China Normal University has made the downstairs a cheerful glide, just like in the picture, you can slide directly to the green playground in the middle to play!
Isn't this the ideal kindergarten for children (* ̄) ̄)
Not only that! The Huashida Zizhu Kindergarten has turned the kindergarten into an unrestricted play area in the space design. Outdoors, halls, rain corridors, aisles, playgrounds, classrooms...all are children's playgrounds!
There is a curved sand pool on the playground in the south, and the surrounding wooden frame is green, which brings the summer outdoor activities to the shade, and also helps the outdoor sand pool to shelter from the wind and rain.
There are various kinds of sand pools around攀爬架with攀爬网The long rope at the starting point reminds people of Taishan, which is really a good place to exercise your strength!
Next to the sand pool is a大型户外综合游乐设备Walk, run, jump, balance, climb, climb, drill and other physical exercises to develop the physical intelligence of young children. The structure of the dragonfly rises, falls, and swirls. The unique shape reflects the interior space, and the subtle design brings new vitality to the original area.
In the center of the park is a large lawn, not only a huge lawn爬网, a few long drill nets, a colorful小城堡滑梯And a variety of flowers and plants. There is a large piece near the lawn.Climbing wallCan provide children to play.
Every time the flowering season is under the crawl, it will be full of all kinds of flowers. I can only sigh that it is so happy to be able to go to such a kindergarten!
Along the west side of the runway, it is a long, long, long and long drill net. Children can drill from the door of the classroom to the entrance hall of the kindergarten. So, I have to think about it and drill it again. I can't drill it in a few minutes.
If you can go to school in such a kindergarten, who would want to go home!